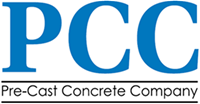 Precast Concrete Company (PCC) offers a wide range of concrete solutions for just about anything. We offer underground electrical structures, box culverts, wall panels and even a variety of landscaping products.
We are open to new ideas and strive to produce quality concrete products.
Not only do we stock products that are on the Qualified Products List (QPL) for the Alaska DOT,  we are also recognized by the National Precast Concrete Association (NPCA) for our continued effort and commitment to producing quality products and setting the standard for precast concrete products in Alaska.
Our History
PCC was established in 1977 by John McGee. PCC grew over the years while building products for the local utility companies and supplying various precast concrete products throughout Alaska.
In February of 2000, Anchorage Sand & Gravel purchased PCC. In the spring of 2003, we moved to our present location. We now have a larger shop and yard, allowing greater productivity and the capacity to serve our customers with quality concrete products all year.