We have a large selection of standard products in stock through Pre-Cast Concrete Company (PCC). We also have the flexibility to help design new precast concrete solutions, produce detailed shop drawings, build forms or use existing forms, and manufacture.
We supply standard and custom concrete products for electric, communications, and utility companies that meet or exceed Municipality of Anchorage and State DOT Specifications. Additionally, we supply concrete products for new construction, landscaping, and security projects throughout the state.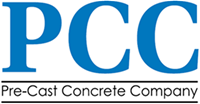 PCC again met the requirements stated in the NPCA Quality Control Manual for Precast Concrete Plants. 
Participation in the NPCA Plant Certification program affirms an ongoing commitment to producing quality precast concrete products to recognized standards.
Our History
PCC was established in 1977 by John McGee. PCC grew over the years while building products for the local utility companies and supplying various precast concrete products throughout Alaska.
In February of 2000, Anchorage Sand & Gravel purchased PCC. In the spring of 2003, we moved to our present location. We now have a larger shop and yard, allowing greater productivity and the capacity to serve our customers with quality concrete products all year.